Google's Secret Fortress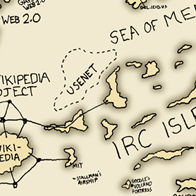 Oh no. Today the secret location of Google's Volcano Fortress has been revealed.
Go ahead and click on the map, but before you contemplate infiltrating the island on your gyrocopter, you might want to prepare yourself for a possible encounters with ninjas, pirhanas, sumo wrestlers, and a nefarious rocket base.
Oy vey. The internet. Now anybody can buy the secret map for $13.
Move on, nothing to see here.



Japanese tourists have captured evidence of a secret lair with a villainous colorful logo.
Posted by David at May 3, 2007 02:11 PM