Mortgage Tax Deduction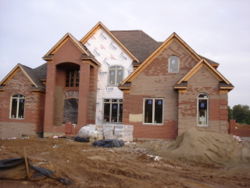 Who else thinks the mortgage tax deduction is a really bad idea?
I am buying a new house, and so I have been thinking about home prices, interest rates, and taxes. And as I listen to the "advice" I get from mortgage brokers, I get that slimy car-dealership feeling that everybody is trying to sell me something that I can't afford.
Several people have told me, "why not borrow money against your house to take the tax deduction? You can get a nicer house that way. And if you don't need the money, plow it into the stock market to make even more!" And it's not just the salesmen. Even conservative white-shoe investment advisors will agree that the mortgage tax deduction is a good enough tax break that we should considering borrowing against it beyond our real need for cash. (The current WSJ offers just this sort of advice.)
Does this sound nuts to you too?

Borrowing to Outbid Other Borrowers
So I am convinced that the mortgage tax break doesn't help anybody. There is a finite amount of real estate - the planet is not getting any bigger after all - so the only thing we get out of encouraging borrowing for houses is that we drive up the prices of houses for everybody. Ooh, I've a fat wallet because I got a great deal on a big loan - guess what? The other bidder got the same great deal, and so we are both just borrowing more to pay more.
To some extent, the high price of real estate encourages more investment in housing construction. But since the mortgage tax credit gives more money to rich people who can afford to borrow more, it really encourages investment in expensive real estate. The continuing housing boom in McMansions - actually, nowadays it's more like a boom in bona fide Mansions - is a luxury paid for by the American taxpayer.
And the McMansion boom is not making houses any cheaper.
Houses Really Are Pricey
Houses are too expensive. My elderly neighbor bought her house - she was its first owner - for about $20,000 in 1956 - and it was the most expensive house on the street. When I sell my smaller house - just as old, never renovated - I expect to get more than half a million for it. You might say that this is just inflation. Aren't higher prices just a reflection of a cheaper dollar and a wealthier nation?
No, the truth is that houses really are getting more expensive, any way you measure it.
Here is a graph of average U.S. housing prices. Adjusted for inflation, houses are actually about twice as expensive as 30 years ago. And home prices are not just that following the rise in real wages either (annual average wages can be found here). While in 1976, people averaged spending about 5 times their annual wages on a house, in 2006, houses are selling for more than 8 times annual wages. So yes, houses really are more expensive than they were when we were kids, no matter how you look at it.
We are making more money than our parents on average. But we have to save up more years of wages to afford a house even so.
A Debt Society Built on a Real Estate Bubble
We are not really waiting and saving and counting pennies for more years before buying a house, are we? Politicians and pundits like to point out that America has become a whole country of borrowers: they decry the federal budget deficit and talk about the evils of credit cards.
And yet it seems clear that credit cards are not the bogeyman. If you look at the Fed's data on household debt or other analyses of household debt, you will see that our borrowing habits have been mostly the same over the years, even in this era of credit card "innovation." There is one kind of borrowing that has been getting markedly worse: mortgage debt. In 1976, mortgage debt averaged about 40% of a year of income; in 2006 mortgages are larger than the nation's annual income.
We are indeed a nation of borrowers that continues to borrow more. Why are we borrowing money? To bid against each other for a finite stock of real estate, pushing the cost of housing to the highest levels in history.
Instead of paying what we think it's worth for real estate, we pay based on what we think other people are willing to pay. This is the essence of a classic Ponzi scheme, an investment pyramid, a bubble. The bidding is pushed higher by an army of bankers whose job is to encourage us all to borrow more. And it is a phenomenon that is supported and justified by the federal discount on cash for residential mortgages.
But the tax break doesn't make us richer. It is a trap.
The Right Way to Subsidize Housing
Roger Lowenstein of the NYT has a nice article arguing that the mortgage tax deduction is a really bad idea. But, as others have observed (like Dan Gross in Slate), the mortgage deduction is something that is politically impossible to get rid of.
Maybe here is a way. The mortgage tax deduction costs about 70 billion dollars a year. Every year about one million new homes are sold.
Why not give homebuyers a once-in-a-lifetime direct subsidy of $50,000 towards a single house purchase? The savings from cutting the mortgage tax deduction could more than pay for more than one million subsidies every year, with a nice margin left over to account for changes in behavior. Instead of being tilted towards rich people shopping for mansions, the subsidy would be flat, generous, and equal for all home buyers.
This fair, flat, subsidy would be very different from today's rich-tilted subsidy. Since it would not be an open-ended discount on cash, it would not cause an endless spiral of speculation for expensive houses. In fact, eliminating the rich-mortgage-tax-credit would probably pop the real estate bubble and cause a collapse in the McMansion business. In exchange, it would stimulate a more sorely-needed boom in the construction of lower-priced housing.
This seems like a tradeoff, and yet I bet both trends would be welcome by home buyers at all income levels. People buying their first house wish there were more "starter homes" being built, and the mortgage deduction isn't actually making their house buying much easier. And people shopping for mansions, well - they are snobby and rich and they'd like their expensive houses to be an exclusive thing instead of a mass-production industry anyway. Rich people actually hate McMansions.
And reducing debt incentives might be a first step towards transforming ourselves from a nation of borrowers back into a nation of investment, risk-taking, and self-reliance. It might set us on a path of freedom from yoke of 30 years of debt payments to foreign holders of Fannie Mae bonds. It might increase the savings rate, stimulate economic growth, and cut the trade deficit.
Seems like a win all around, does it not?

Posted by David at December 22, 2006 04:49 PM