World's best Computer Keyboard
I spend all day in front of a computer keyboard. Tap tap tap tap tap tap. Desktops, laptops, on the road, at home, in the office. Here I sit, tapping away in bed on a sleepy Saturday morning.
So keyboards are important to me. The worst ones are the desktop keyboards. For years I suffered with computer manufacturers' default keyboards and various gimmicky add-on keyboards. It seems to me that desktop keyboards are designed to have as many useless buttons as possible, with a gigantic size intended to impress shoppers, for a manufacturing cost that is low enough to justify bundling them for free with computers. They do not seem to be designed with usability in mind.
But I have finally found the World's Best Computer Keyboard. I have used my IBM SpaceSaver II for more than a year now, and my trusty keyboard has never given me any RSI problems (though please, people worried about RSI should look elsewhere). For my use, the keyboard layout is superb; the key action is perfectly balanced. The keys are big, the keyboard is small. It has a built-in mouse. The only thing missing it is that it is not wireless, though it does have a nice long (and straight) cord. (Do you hear me IBM? Lenovo? Whoever? I want this keyboard back, and I want it to be wireless! Anybody listening?)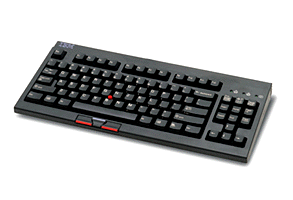 Life was not always so good before my SpaceSaver II keyboard. Once, while working long hours for weeks and weeks on Internet Explorer 4.0 at Microsoft, I started getting cramps and soreness in my back and my wrist - the dreaded Carpal Tunnel Syndrome.
When I was in the CS program at Cornell, I had seen Fred Schneider come down with CTS. After too many hours in front of his keyboard, he was completely unable to type or even use his hand, and he walked around for months in a wrist immobilizer. I do not know if he ended up getting surgery, but many CTS sufferers do. If you have ever seen anybody disabled by disease, you know it is not a funny thing at all.
With poor Fred's experience in mind, I took a started doing ergonimic experiments on myself to find and fix the problem.
Here was my conclusion. It turned out that the typing "home position" on my keyboard was not directly in front of me. It was shifted just an inch or two to the left, and so when typing I was twisting my body ever so subtly. Silly me, why did I do that, you say? I think this is a common problem.
Modern 104-key keyboards invariably follow the M design and put 31 of those keys in a big section on the right: first the extra arrow key area (useful), and then a huge number pad area (useless). Even worse, most right-handed people put the mouse to the right of that - a huge reach. If you have limited desk space, or if you can not comfortably reach that far for your mouse, you end up shifting your keyboard to the left.
My temporary solution was to put the mouse on the left instead of the right. So for several years, I was a left-handed mouser. Some of my colleagues at Microsoft commented on this when they came to do something on my computer, and and they may remember asking me if I was left handed (nope, I would say, to quizzical looks). By the way, being a left-handed mouser does not necessarily mean that you switch the left and right mouse buttons. I did not.
Moving the mouse to the left solved my problem, but I do not particularly like mousing on the left. The fact is, the standard keyboard is just too huge. You can't even put it in your lap without it tilting over. (This is a problem even for slick wireless designs like Apple's Bluetooth keyboard. You can't put that thing in your lap! Hear me, Apple? Wireless headsets are for your ear; wireless keyboards are for your lap. Drop the number pad and add a trackpoint!)
The original Macintosh was perhaps the last mass-market desktop keyboard that did not have this problem. The classic Mac in 1984 came with a nice little keyboard that had just what you needed, with no extra stuff stuck on the side. When the Mac Plus came out a couple years later, they had added the number pad on the side. This made the computer more competitive with the IBM PC with its fancy 101(!!)-key keyboard. Competing with the IBM PC had become a way of life. Manufacturers have never looked back.
Fast forward a decade to 1996. In an effort to educate my parents on this newfangled thing called the Internet (it had been on the cover of Time magazine several times, and they were interested), I bought them a WebTV. One special thing about the device was its petite wireless desk/lap keyboard. It was not an excellent keyboard, but it was a step in the right direction, and it opened my eyes to the issues.
Ever since then, I have tried various small keyboards that do not have the huge attachment on the right. Most have serious shortcomings. Typically, they do not have much key travel, and the key action isn't responsive. Also typical is for the keybard layout to be modified (e.g., they squeeze the arrow keys in a strange shape or place) and for some keys to be miniaturized (e.g., they shrink the F1-F12 keys half-size). I have one of these keyboards on my kids' computer because it is good for their small fingers and it does not take up their whole desk. But it is not a great keyboard for adults.
So let us take a look at the IBM SpaceSaver II.
First, IBM dropped the useless number pad to reduce the number of keys to 87. (Actually, the number pad can be quite useful for keyboard games like NetHack, so if you play NetHack all day long or if you are an accountant who is a spreadsheet maven, you will want a different keyboard.)
Then, they put a Trackpoint Mouse in the middle of it. This is pretty neat feature, because it means that you can actually use this keyboard in your lap. You never have to move your hands back to your desk to move the pointer. Still, when the keyboard is on my desk, I use a separate USB mouse (actually a mouse on a graphics tablet, but more on that some other day). It is possible to use the keyboard mouse and another mouse at the same time (both can move the pointer). The small size of the keyboard means that the mouse can sit on the right.
Finally, the various control keys, in particular Esc, Ctrl, Shift, Alt, and the all-important arrow keys are in the same spots as a standard 104-key keyboard. All the keys, including the F keys, are full-sized. For heavy text editors like me, having these keys in the right place a serious issue. I do not want to look at the keyboard hunting around for the arrow keys while I edit.
The only key placement compromise IBM has made is to move the printscreen/scroll lock/pause keys down to make room for the keyboard lights. This has the disadvantage of moving the home, end, insert, delete, page up and page down keys down by a square. This last move is not ideal - I would have preferred that they sqeezed the lights in somewhere else or shrunk the printscreen/scroll lock/pause keys to make room. But the placement is not bad and something I have found I can get used to. The design as a whole is certainly better than any other keyboard I have seen.
Unfortunately, I don't know if IBM (or Lenovo maybe?) still manufactures the SpaceSaver II keyboard today. The link to Windows Marketplace here has a couple places that seem to sell refurbished ones. The keyboard was designed for rack servers, so it never did show up in ordinary PC keyboard catalogs. Sorry, I will never sell mine. But if you get one, let me know.
Posted by David at May 21, 2005 08:04 AM